Enjoy Food and Drinks Offered at TETRA Hotel, Autograph Collection
The city context is a universe of its own. When we spend most of our time there, living and working in it, it becomes a challenge to nurture our more wild side. Dining at TETRA brings the season of commune and California bounty to this landscape with ultra-fresh fare, reminding you to break off from the clock, and break bread.
Adrestia
A consciously woven tableau of local fare, inspired by the richness of Northern California and the lush greenery that surrounds us here, reinserts the elements of collective nourishment and abundance.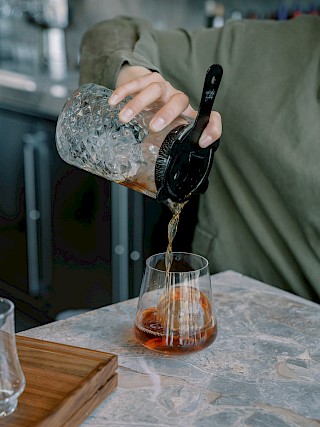 Nokori – Lobby Bar
Beauty in life is about contrast. Nokori was created to offer this energetic shift when and where you need it most; in the hub of the hustle, Silicon Valley's Tetra center.
Coffee Manufactory
Coffee Manufactory offers coffee born from a conversation about dreams of what is possible in coffee, pastries from award winning artisanal bakeries, and delicious Japanese Sandos made in house.